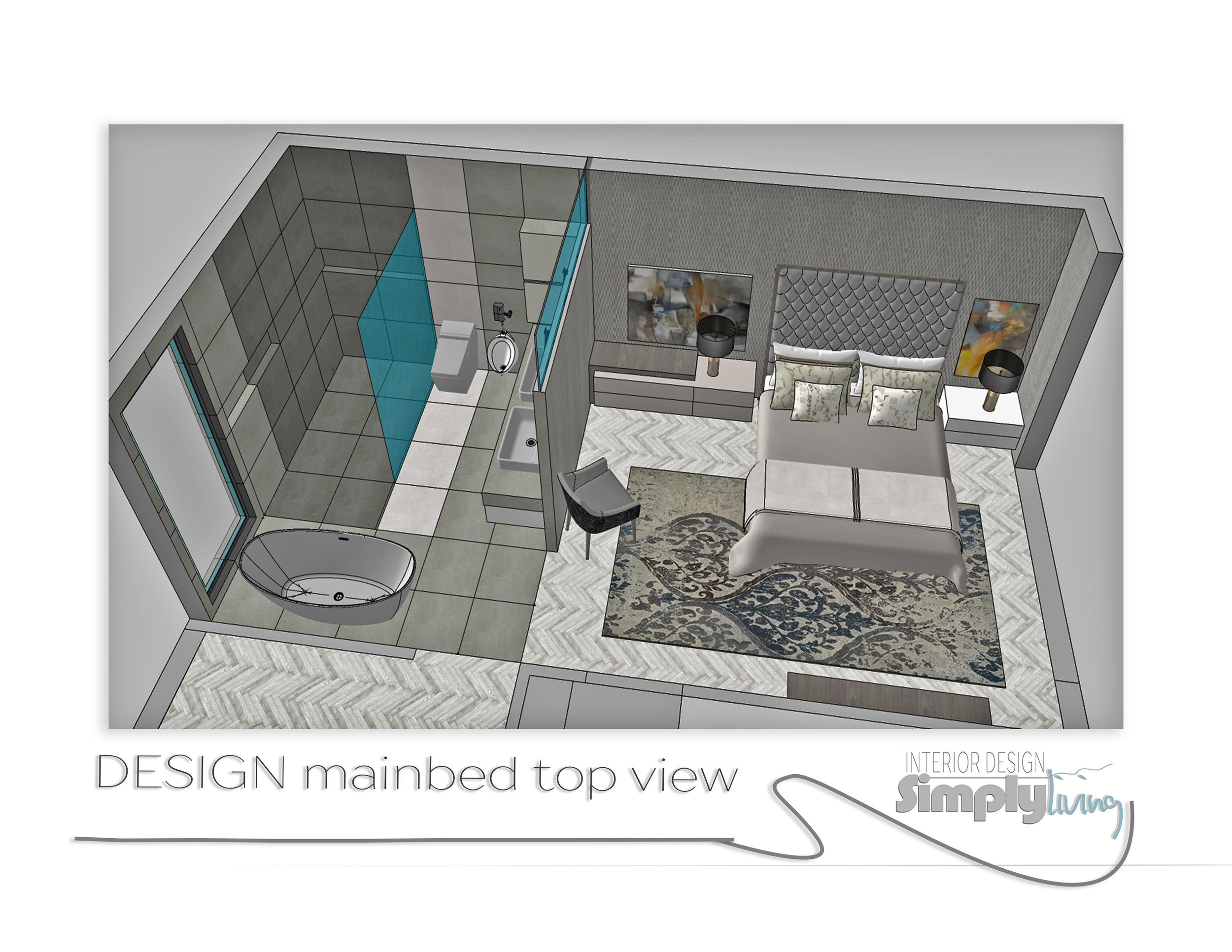 Layers of natural textures and colours, wrapping you in style and comfort is the inspiration behind our design for this space…
When we are quiet we are working!! But now finally I have some time to share one of the projects we have been busy working on.
Firstly, I cannot believe we are already heading for the end of this crazy year of 2018, well crazy for South Africans anyhow. The saying always goes, there is not enough time in a day, but now it seems there is not enough time in a year!
With this bedroom project I would like to take you on a small journey which will hopefully give you some insight to how the design process actually works, all the effort, energy and inspiration that goes into producing the perfect design solution for your space.
In all my years of experience time after time, I have observed that when you finally present your design solutions to a client, it seems that the ideas just popped into your head, taking no time at all. Having your client wondering why and what they paying all these fees for! when the design solutions appear rather obvious once presented.
Ok first and foremost …most important, is a consultation which we do charge a fee for; R920.00 per hour. We usually quote for 2hrs max, which quite honestly the consultation generally takes far more than 2hrs …in saying this, this time gives you a fair chance to pick our brains on every level and consider if you would like to continue with Simply Living as the designers for your project.
However for Simply Living this is a time to meet, get to know you, assessing your project, taking a detailed brief of what you would like to achieve in the space.
We will go through the project in mind, share ideas, giving solutions, looking at your plans, existing furniture, colours considering your final goal. With every project and space being completely different, we are versatile designers, designing according to the space, light and your individual style, personality and preferences.
At the end of the consultation it is important to to discuss expectations and budgets, also design fees to continue… this would include your concept design, drawings and a detailed costing. Once design fees are confirmed a 50% deposit is paid and we continue to create your dream space…
Ok so once we have the detailed brief, clients dream photo's and deposit..the real work begins! Planning the Space, Sourcing the fabric, wallpapers, furniture pieces…mostly online at this stage, we create a library for the client, this might seem like an easy task, but it takes loads of time to sift through suppliers choosing finishes that will work, are up to date and most important that the client will love, at the same time checking availability and stock, prices to make sure you don't blow the budget, which these days can be a tough call!
With this project our client wanted a more mature look, embracing a neutral timeless pallet, the space being rather limited was the main challenge, we managed to solved this problem by integrating the bathroom, dressing room and bedroom into one, with slight divisions which helped to create the the illusion of space, each room flowing seamlessly into the next.

Due to the neutral pallet, to create depth and interest we introduced a blend of natural textures, a herring bone wood flooring in washed oak, mixing soft whites and greys, this flooring being quite the look right now…adding a slight 3d effect into the room. The wooden floor flows into the dressing room, complemented by a natural porcelain 600x600 tile in the bathroom, here we used 3 shades,ranging from a dark textured grey to a soft light greyish white creating shadows in the space defining the flow. Offset by white and grey marble as a focal point behind the bath bringing all shades beautifully together.
Once we have the basic shell and plan working, its time to add the furniture, fittings and fabrics in this case all the furniture is custom designed and specially made up.
Wall Paper is a must especially in a space where you need to create atmosphere. Doing a feature wall is not the trend any longer, these days we will take the paper further. On this project I was drawn to the new Covers Sculpture range, I love the 3d effect of this Wall Paper! as it resemble the real deal. I used the Gila Sand for the main bedroom it has a soft, understated texture with a touch of silver to add glamour, complimenting the centre crystal chandler…
Geometrics are real big right now and are here to stay for a while, we brought in a geometric fabric on the back of the chair, just to ground the otherwise soft space. Then a soft hint on the back cushions.
All furnishings and lines we kept modern, simple, making sure they blend seamlessly into the space, and do not over power the room. Bringing in a few glamorous pieces like the headboard and chandler.
By now you know how I love the concept of bringing nature in, this we achieved by making the bath a feature, opening up a huge window behind it, creating a plant wall outside for the view..this bright idea, brings light, space and nature into the room..
Once all the idea's come together, we proceed with the visuals, mood boards, collect samples from the respective supplies and finally …Present ..
Once the client accepts the design and makes their changes, the real legwork begins with checking fittings, fabrics etc for real, doing all the required working drawings for contractors and manufactures…in order to put the costing together… now that is another story…
Hopefully this gives you some insight, as to all the work that goes into what seems like a simple design, and remember this is not an off the shelf process, every client, every project is unique…
Our next exciting home project which I will share once the concepts are completed...
Our client wants an industrial coffee shop concept in their upstairs lounge, cannot wait to get started on this exciting project…
will keep you posted